Driveways & Parking Lot Services in Bucks County, Pa.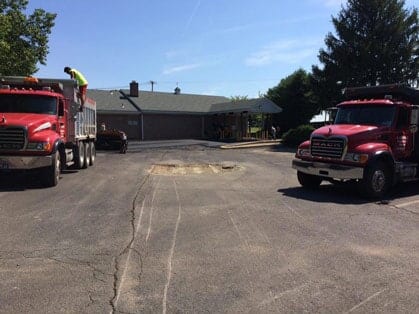 At G. Campbell & Son Paving, we provide a variety of parking-lot services for commercial businesses and municipalities, including crack repair and patchwork. Our family-owned business is fully insured and we are registered as Certified Pennsylvania Contractor #PA 064414.
We offer homeowners and local businesses in Bucks County driveway installations as well.  All the services we provide for residential and commercial clients are guaranteed for at least one year. We are qualified to help you through the entire paving process, from planning to execution of the final deliverable. Apart from complete installations, some of the other services we specialize in include sealcoating, crack repairs, stone driveways and additions.
We have the right equipment to lower the elevation (mill down) to accommodate the thickness of the new surface.
Complete removal of your existing surface may be necessary.
We have the ability to expand your existing driveway or parking lot to accommodate your growing needs.
We do not recommend this. However, we can remove it and replace it with a paved driveway.
When your driveway is properly maintained its life can be easily extended from 10-15 years to 25-30! Asphalt is a porous material that needs to be protected to last. Sealcoating will protect your driveway from outside elements and automobile drippings.
We recommend staying off of your new driveway for 36 hours until it is completely cured.
For a residential driveway every other year would be sufficient for sealcoating.
Our quality commercial grade sealer is hand applied using a brush method.
We use a brush application for residential projects and a spray application for commercial.
You may see some tire marks on fresh sealcoat, don't worry these will go away. Marks may be prevented by waiting the correct amount of time for sealcoat to cure and avoiding sharp turns on the drive for up to 2 weeks after sealcoat has been applied.
Yes we do, please give us a call for a quote.
As long as the weather is not too cold we can sealcoat. Our crew keeps an eye on weather conditions so you get the best results.